Juhi Kanu is a young and dynamic professional artist from Assam, who creates wonders with colours- primarily in the digital platform.
Drawing human figures and faces is her signature style and her work has been extremely appreciated on social media and one upload fetches this young artist likes and shares in galore.
In conversation The Story Mug, artist Juhi Kanu speaks at length about her career and the journey so far.
TSM: How and when did you get attracted to art?
Juhi: I have been attracted to art right from my childhood. As a child, I used to paint and sketch a lot but never received any training at that stage.
I was always driven into creative aspects. I used to make pot paintings, wall decors etc.
TSM: What has been your training like?
Juhi: I got professionally trained from the MAAC institute in Guwahati. But creating artworks is mostly self-trained.
TSM: The first artwork that made you proud of yourself
Juhi: I have made a digital portrait of my mother and father that I'm very proud of. Though it's not the best, it's very close to my heart.
TSM: What drives you into creating new artwork every time?
Juhi: I always look around myself in search of inspiration. I try to find a pattern or design and relate it to my art in every way possible.
I have been following a lot of great artists on Instagram since I started digital artworks and seeing their creativity inspires me a lot to create artwork.
TSM: How would you describe your artwork?
Juhi: My artworks reflect a personality of myself. It's fun and colourful. I like to keep my art vibrant and fusion art with quirky quotes.
Most of my artworks are inspired by Indian aesthetics such as old paintings.
TSM: What are the mediums where you mainly work on
Juhi: Presently, I mostly make digital artworks. But I would love to go back to the traditional way of art. I also have a dream to paint murals sometimes( if I get any chance).
TSM: Since when did you decide art professionally
Juhi: It is still not my professional job. I do commission works and I am working in a corporate full time. But I would love to do art as a full-time activity
TSM: Which was your first professional work
Juhi: I have made a portrait of a beautiful couple almost 1.5 years ago.
TSM: Do you find any difference in your approach when you art for self and art for a client?
Juhi: Yes, absolutely. When I create for myself it reflects my thoughts or ideas entirely but for a client, I have to submerge their ideas with my creativity.
I have to keep a lot of things in my mind as what the client imagines their artwork to be. I keep asking them various questions so that to get to know how exactly they want their artwork to be as sometimes it becomes difficult for them to explain what they imagine.
I want my clients to be happy with their orders and for that, I put maximum efforts.
TSM: Does your opinion about your work changes if you keep looking at it for hours after being completed?
Juhi: Ah yes! That's why I prefer not to look at it more because every time I see it I find something or other to change. Which, by the way, makes it better but also I invest a lot of time in that so I prefer to cross-check it not more than twice.
TSM: How do you prepare yourself when you begin a new assignment?
Juhi: Every new assignment gives me the motivation to work and I get very excited to start a new project.
TSM: What are the topics you like to create on a canvas?
Juhi: I don't do canvas paintings as of now.
TSM: Does any part of your work reflects any of your unexpressed internal emotions?
Juhi: Yes, as I said it expresses my vibe. Fun and colourful fusion art. (Example- Disney princesses reimagined in different northeastern attires)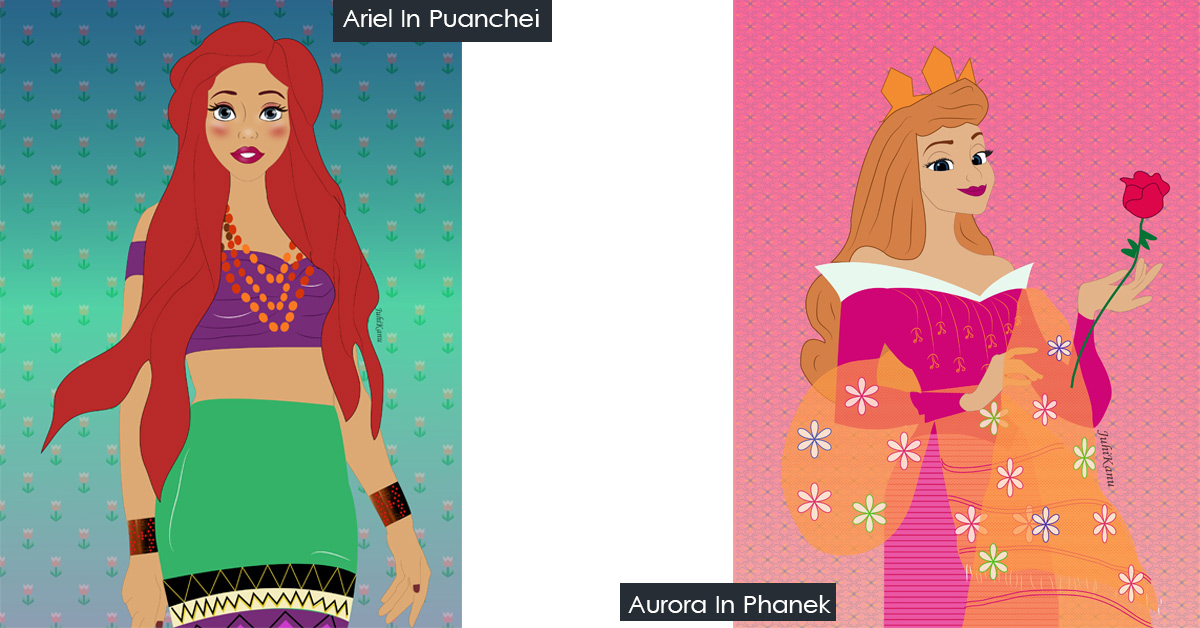 TSM: Who has inspired you the most?
Juhi: Old vintage paintings, Indian and Assamese tradition and culture, and the society,  etc
TSM: Do you read about art, colours and paintings?
Juhi: Yes, I do.
TSM: What are your plans for the future?
Juhi: I want to do art as a full-time job and also open a small business brand of my own 🙂
TSM: Any message for the readers?
Juhi: If you love anything, then go and do it. Never stop and think about other's opinion. Because in the end, it's your inner peace and happiness that matters the most.
ALSO READ | For Artist Lalita Barman, The World Is A Canvas